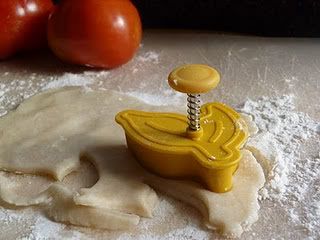 Such cuteness!
I had to share this fun little post-Christmas gift I gave myself. Williams Sonoma had an after holiday sale and I just had to purchase their piecrust cutters. The
fall pack
is discontinued for now but it includes four leaves, my favorite being the maple leaf. The other day I made a chicken pot pie and instead of using a normal pie crust top I cut 50+ maple leaves to cover my pie. Time consuming? Yes. Great looking? Yes, yes!!
Today I made one of our favorite side dishes, the
Tomato Basil Pie
. With a little extra dough I embellished the pie with another leaf design. I think it looks too good to eat. My family thought otherwise and they ate it up without any comments. Some day when my children are older hopefully I'll hear some: "Aw! How cute!" or "Wow Mom! This is the best looking pie I've ever seen!"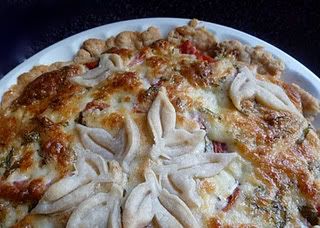 The second set I bought on clearance is the winter holiday set. I can't find these anymore on William Sonoma's site but hopefully next year they come back. My favorite is the holly leaf. Besides cutting the crust pieces for embellishments or layering them to make a piecrust top you can use the large "cut" piece as your pie topper. In the end it will look somewhat like a lattice pie but with the shape of your cutter instead of squares. I love the idea of creating a picture landscape on a berry pie with reindeer prancing, gingerbread men marching and snowflakes falling. Too much? Probably.