"Feed me PF Changs and I am a very happy woman!"
Rachelle at Fashionably Foodie posted her recipe for lettuce wraps similar to those served at PF Changs restaurants and I just had to make it. My husband lived in Taiwan for two years serving a mission for the LDS church so he loves good Chinese food. I am a major fan of anything PF Changs so I was very happy to see this post and make it for my family. The best part about this recipe is the simple ingredients! I had everything in my pantry and to make things even better the preparation time is short. Thanks for the delicious recipe, Rachelle!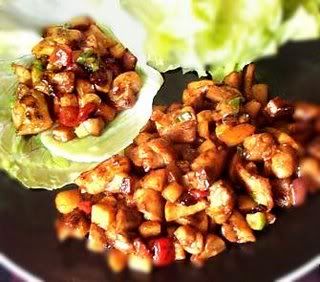 Photo courtesy of Rachelle's awesome blog!
Asian Chicken Lettuce Wraps
3 chicken breasts
1 large carrot
8 whole mushrooms
3 green onions
1 red bell pepper
2 large cloves garlic
1/2 can water chestnuts, drained
2 T oil
1/4 t sesame oil
1 head lettuce, leaves washed and separated in wholes
Sauce:
1 c water
1/2 c sugar
4 T rice vinegar
2 t sesame oil
1 c soy sauce
1 t fresh ginger
Bring chicken to boil in water deep enough to cover and with a pinch of salt and clove of garlic. Boil for 10 minutes. Remove from water and chop finely, about the size of a kernel of corn.
Meanwhile, finely dice onion, water chestnut, mushrooms and bell pepper to same size as chicken pieces. Also, finely grate carrot and set in separate bowl from other vegetables.
Mix together sauce ingredients, whisking to combine. The sauce recipe is already doubled to allow for extra dipping sauce. Separate half of the sauce and set aside, adding 1/8 t red pepper flakes and 1/4 t fresh ginger for added flavor in dipping.
Heat 2 T oil and 1/4 t sesame oil in a large pan. Add onions, mushrooms and red bell pepper. Cook 2 minutes to soften. Add chicken, water chestnuts and garlic. Saute for 2 minutes. Add sauce to pan, bring to a boil and simmer for 10 minutes until liquid is reduced to almost nothing.
Jayne's notes: The original sauce recipe called for 1 t sriracha but I don't have that so I omitted it. Rachelle said the only ingredient you shouldn't substitute out is sesame oil.