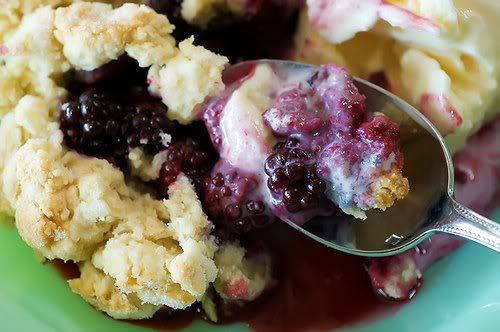 *Photo courtesy of thePioneerWoman.com
Ree at Pioneer Woman has THE BEST recipes!
Here
is another of our family favorites we've found on her site. (She makes a second blackberry cobbler that I haven't yet tried so give it a whirl if you feel adventurous.)
Blackberry Cobbler
6 c fresh or frozen blackberries
1/2 c plus 4 T sugar
1 T lemon juice
zest of 1/2 lemon
2 c flour
1/4 t salt
1 T baking powder
1/4 c vegetable shortening
4 T butter
1 egg
1/2 c milk
ice cream (optional, but oh so highly recommended!)

Preheat oven to 425. Combine blackberries, 1/2 c sugar, lemon juice and lemon zest in a mixing bowl. Stir to combine, pour into baking dish and set aside.

In a separate bowl, pour flour, salt, baking powder, and 1 T sugar. Add shortening and butter and work mixture together with a pastry blender until the mixture is coarse. Measure 1/2 c milk, add an egg and mix together. Pour into flour mixture, stirring as you go. Mixture should be smooth and not dry but not overly sticky.

Take clumps of dough and place them on top of the blackberries. Lightly flatten dough with your fingertips. Sprinkle with 2-3 T sugar and bake until golden for 30 minutes. Berry juice will be slightly thin but don't be afraid. It will gradually soak into the cobbler topping.
*Jayne's notes: I forgot to add the lemon when I made this and it still tasted heavenly.