We ate sloppy joes for dinner the other night. The fun part about this dinner is that we used pepper-jack cheese and a spicy coleslaw recipe of my dad's. This is definitely the way to eat sloppy joes! I always get tired of the same old bun with a big scoop of meat so this was way enjoyable! (By the way, a week ago we had this same slaw recipe on fresh tilapia fish tacos. Yummy!!)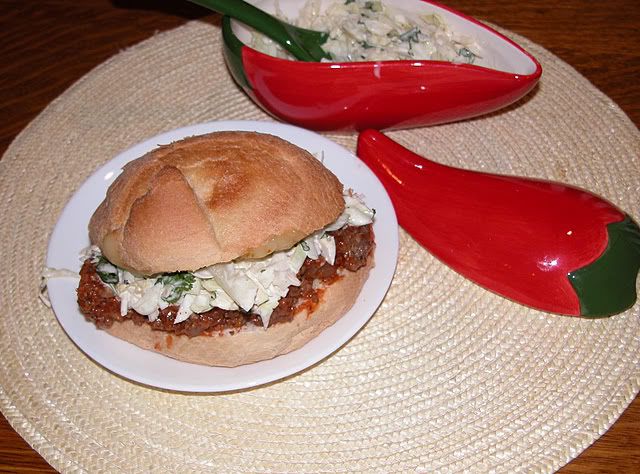 Spicy

Coleslaw
(Courtesy of Poppa Snyder)
Slaw:
3 c cabbage
1/2 c cilantro
Slaw Sauce:
1/3 c mayo
1 T apple cider vinegar
1 T sugar
1/4 t cayenne pepper
dash of tobasco
salt and pepper to taste
Mix the sauce and set aside. Cut cabbage and cilantro and toss. Add the sauce to the cabbage mixture before serving but not too early or the cabbage will get soggy. Serve on sloppy joes, fresh fish tacos or on a sandwich wrap.
*It was difficult getting exact measurements for this recipe. These measurements were what we used the other night and it tasted great but if you feel it needs more/less of something then 'have at it'!