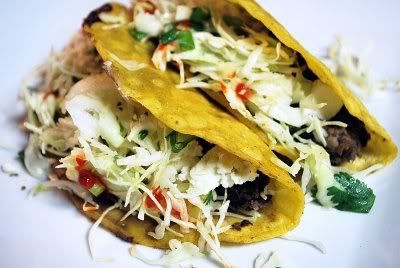 I love feta! I love it on fresh green salads, in greek pita pockets, and now in black bean tacos with slaw. It really adds a great flavor to this fun little meatless taco. Enjoy!
Crispy Black Bean Tacos with Feta and Cabbage Slaw
(Bon Appetit)
Ingredients:
1 15 oz. can of black beans, drained
1/2 Tsp ground cumin
5 Tsp olive oil, divided
1 Tbsp lime juice
2 Cups coleslaw mix (I used fresh shredded cabbage)
2 green onions, chopped
1/3 Cup cilantro, chopped
4 white or yellow corn tortillas
1/3 Cup crumbled feta cheese
Bottled hot sauce
Place beans and cumin in a bowl; partially mash. Mix 2 teaspoons olive oil and lime juice in a medium bowl; add coleslaw, green onions, cilantro and toss to coat. Season slaw to taste with salt and pepper.
Heat 3 teaspoons olive oil in a large nonstick skillet over medium-heat. Add tortillas in a single layer. Spoon 1/4 of bean mixture onto each tortilla; cook 1 minute. Fold tacos in half. Cook until golden brown, about 1 minute per side. Fill tacos with feta, slaw and hot sauce.
*Jayne's Notes: I used fresh flour tortillas instead of frying the corn tortillas for less fat. The bottled hot sauce of choice in our family is Tapatio and a shake of it tasted great on this taco.