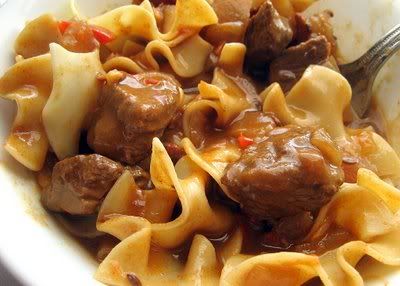 We really enjoyed this recipe. My kids even asked for seconds!
We served this over egg noodles but now that I know how much we like the sauce next time we'll be serving it like the Austrians over spaetzle. (Spaetzle is a pasta made with a cool 'spaetzle maker' which we just happen to own!)

Goulash
(Featured on
Perry's Plate
from
Smitten Kitchen
(adapted from
Gourmet
, 1994). Photo courtesy of Perry's Plate...she's a better food photographer than me.)
5 slices bacon, chopped
3 pounds boneless chuck, trimmed and cut into 1/2-inch cubes
2 T vegetable oil
4 medium onions (about 1 1/2 pounds), chopped fine
3 garlic cloves, minced
3 tablespoons paprika (preferably Hungarian sweet)
1 1/2 tsp. caraway seeds
1/3 c. all-purpose flour
1/4 c. red-wine vinegar
1/4 c. tomato paste
5 c. beef broth
1 to 5 cups water (use the former to make a stew, the latter to make a soup)
1 teaspoon salt
2 red bell peppers, chopped fine
In a 6-8 qt dutch oven or saucepan, cook bacon over moderate heat, stirring, until crisp and transfer with a slotted spoon to a large bowl. Leave the bacon fat in the saucepan and add beef, browning in small batches over high heat and transferring it as browned with slotted spoon to bowl. (Doesn't have to be cooked all the way through.)
Reduce heat to moderate and add oil. Add onions and garlic and cook, stirring, until golden. Stir in paprika, caraway seeds, and flour and cook, stirring, 2 minutes. Whisk in vinegar and tomato paste and cook, whisking, 1 minute. (Mixture will be very thick.) Stir in broth, water, salt, bell peppers, bacon, and browned beef and bring to a boil, stirring. Simmer soup, covered, stirring occasionally, 60 to 75 minutes.
Season soup with salt and pepper. Soup may be made 3 days ahead and cooled, uncovered, before chilling, covered. Reheat soup, thinning with water if desired. Serve over egg noodles, potatoes or gnocci. (Or go all-out Austrian and make some spaetzle!) Serves 12.
**Jayne's Notes: I halved this recipe. I didn't have Hungarian sweet paprika so my dish included just plain generic brand paprika and I went light on the onions and slightly heavier on the bacon (Dan likes bacon and 3 strips in a 'halved' recipe just didn't cut it for him). Also, don't be afraid to use caraway seeds. I'm not a fan of rye bread but a little shake of these seeds seemed to make a positive difference. Lastly, we started making this after a late church meeting on Sunday so we definitely did not have the patience to simmer for an hour. I think in the end it simmered for 30 minutes.