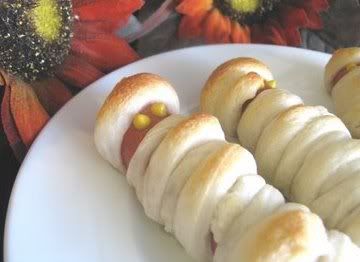 I know it's a little late to post a Halloween treat but these were so much fun to make and eat so I thought I would share anyway.
Breadstick Mummy Dogs
1 roll/pkg Pillsbury Breadstick dough (12 count)
12 hot dogs
1. Preheat oven to 375 degrees F. Unroll all 12 breadsticks from package. Cut each into 3 equal strips. Take 3 strips, one at a time and wrap around 1 hot dog starting from the top of the hot dog. (Each hot dog has 3 thin breadstick strips around it). Leave a small space towards the top of the hotdog to make mustard eyes. Continue wrapping all dogs then place on a lightly greased baking sheet. Bake for 10-15 minutes or until lightly golden brown.
2. Remove and let cool for 5 minutes. Use mustard or ketchup for the eyes.