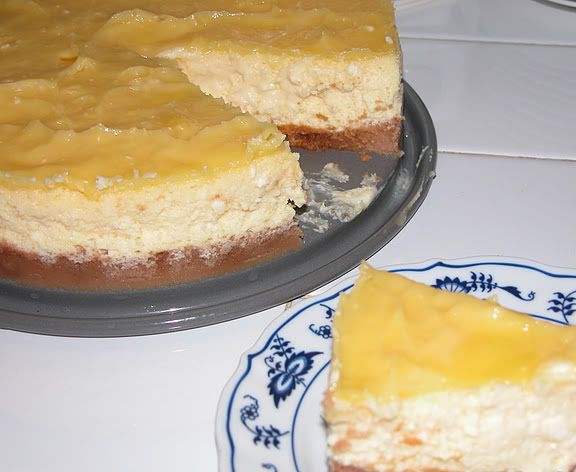 This is one of my favorite cheesecake recipes ever! It's especially fun to eat in the spring/summer when lemons are fresh and you're in the mood for some zingy sweets. We ate this cheesecake for Easter and my 6 year old daughter and her cousin ate seconds so this is a bonafide kid friendly recipe. The only downside to this recipe is that the preparation time is lengthy but the taste is way worth the effort.
Lemon Cheesecake
Cook's Illustrated published May 1, 2003
Ingredients
Cookie-crumb crust:
5 oz Nabisco Animal Crackers or Social Tea Biscuits
3 T sugar
4 T unsalted butter, melted and kept warm
Filling:
1 1/4 c sugar
1 T grated lemon zest
1/4 c lemon juice
1 1/2 lbs cream cheese (three 8-oz packages), cut into 1-inch chunks and left to stand at room temperature 30-45 minutes
4 large eggs
2 t vanilla extract
1/4 t table salt
1/2 c heavy cream
Lemon Topping:
1/3 c lemon juice
2 large eggs
1 large egg yolk
1/2 c sugar
2 T unsalted butter, cut into 1/2 inch cubes and chilled
1 T heavy cream
1/4 t heavy cream
pinch of table salt
1. For the crust: Adjust oven rack to lower-middle position and heat oven to 325 degrees. In food processor, process cookies to fine, even crumbs, about 30 seconds (you should have about 1 cup). Add sugar and pulse 2 or 3 times to incorporate. Add warm melted butter in slow, steady stream while pulsing; pulse until mixture is evenly moistened and resembles wet sand, about ten 1-second pulses. Transfer mixture to 9-inch springform pan; using the smooth bottom of a glass or liquid measuring cup, press firmly and evenly into pan bottom, keeping sides as clean as possible. Bake until fragrant and golden brown, 15-18 minutes. Cool on wire rack to room temperature, about 30 minutes. When cool wrap outside of pan with two 18-inch square pieces of heavy-duty foil; set springform pan into a roasting pan.
2. For the filling: While crust is cooling process 1/4 c sugar and lemon zest in food processor until sugar is yellow and zest is broken down, about 15 seconds, scraping bowl if necessary. Transfer lemon sugar to small bowl; stir in remaining 1 c sugar. In standing mixer fitted with paddle attachment beat cream cheese on low to break up and soften slightly, about 5 seconds. With machine running add sugar in slow steady stream; increase speed to medium and continue to beat until mixture is creamy and smooth, about 3 minutes, scraping down bowl with rubber spatula as needed. Reduce speed to medium0low and add eggs 2 at a time; beat until incorporated, about 30 seconds, scraping sides and bottom of bowl well after each addition. Add lemon juice, vanilla and salt and mix until just incorporated, about 5 seconds. Add heavy cream and mix until just incorporated, about 5 more seconds. Give batter a final scrape, stir with rubber spatula, and pour into prepared springform pan; fill roasting pan with enough hot tap water to come halfway up side of springform pan. Bake until center jiggles slightly, sides just start to puff, surface is no longer shiny, and instant-read thermometer inserted in center of cake registers 150 degrees, 55-60 minutes total. Turn off oven and prop open oven door with potholder or wooden spoon handle; allow cake to cool in water bath in oven for 1 hour. Transfer springform pan without foil to wire rack; run small paring knife around inside edge of pan to loosen sides of cake and cool cake to room temperature, about 2 hours.
3. For the lemon curd: While cheesecake bakes, heat lemon juice in small nonreactive saucepan over medium heat until hot but not boiling. Whisk eggs and yolk in medium nonreactive bowl; gradually whisk in sugar. Whisking constantly, slowly pour hot lemon juice into eggs, then return mixture to saucepan and cook over medium heat, stirring constantly with wooden spoon until mixture registers 170 degrees on instant-read thermometer and is thick enough to cling to spoon, about 3 minutes (*see notes below). Immediately remove pan from heat and stir in cold butter until incorporated; stir in cream, vanilla and salt, then pour curd through find-mesh strainer into small nonreactive bowl. Cover surface of curd directly with plastic wrap; refrigerate until needed.
4. To finish cake: When cheesecake is cool scrape lemon curd onto cheesecake still in springform pan. Using an offset icing spatula spread curd evenly over top of cheesecake. Cover tightly with plastic wrap and refrigerate for at least 4 hours or up to 24 hours. To serve, remove sides of springform pan and cut cake into wedges.
*Jayne's notes: Be sure to set your cream cheese out ahead of time to soften. Also use large enough foil, wrap it very tightly around your springform and make sure the pan is latched snugly to avoid water leaking into your cake.
This cake can be refrigerated up to 4 days but the crust does become soggy.
Regarding judging if the curd is ready: it will first appear thin and soupy but while stirring constantly it will begin to leave a clear trail in the bottom of the saucepan. When the curd leaves the clear trail that quickly disappears it is ready to come off the heat. If the curd continues to cook it will become thick and pasty and a spatula will leave a wide clear trail.