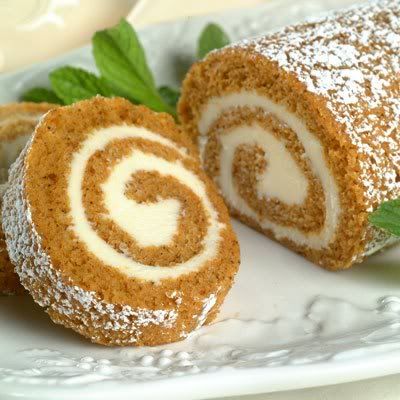 I made my first pumpkin roll tonight. Earlier in the week I came across
Tammy's Recipe site
while planning my menus so I don't know if this recipe is any better than the next but I must say that I highly recommend this roll since my very first attempt turned out perfect!
Pumpkin Roll
Cake ingredients:
3 eggs
2/3 cup pumpkin
1 cup sugar
1 teaspoon baking powder
1 teaspoon cinnamon
1/2 teaspoon ginger
1/4 teaspoon nutmeg
1/4 teaspoon cloves
3/4 cup flour
Filling:
2 tablespoons butter
8 ounces cream cheese
3/4 teaspoon vanilla
1 cup powdered sugar
1/3 cup nuts, optional
Instructions:
1. Mix all cake ingredients. Lay wax paper on a 15 x 10-inch jelly roll pan. Grease and flour wax paper; pour batter onto wax paper in pan and bake at 375 degrees for 15-20 minutes.
2. Lay a clean dish towel on a flat surface with 1/3 cup powdered sugar sprinkled on it. Put baked cake upside down on towel. Take waxed paper off. Roll cake up with the towel, starting at the widest edge. Allow to cool.
3. Mix filling ingredients. Unroll cake and spread the filling and nuts inside. Roll back up (without the towel, of course!) and refrigerate. Slice into slices to serve.
(Photo courtesy of Nestle)