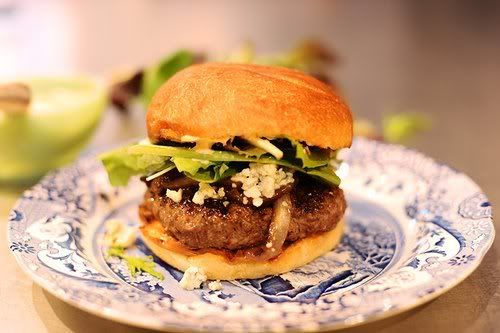 We are having so much fun cooking on the grill at least once a week. Let's just the grill we use now, a stainless steel LARGE gas grill, is a major step up from briquets in a knee-high grill. I found this recipe on Pioneer Woman's site and was slightly hesitant when I saw all that blue cheese. Don't get me wrong because I do like blue cheese, just not gobs of it with nothing else to temper the flavor. This hamburger has just the right mix of flavors and I especially enjoyed the carmelized purple onions.
PW's Blue Cheese and Bacon Burger
2 lbs 80/20 ground beef
1 red onion, sliced (not too thick, not too thin)
crumbled blue cheese
mayo
Tabasco sauce
2 T brown sugar
kaiser rolls
lettuce
Place the ground beef in a medium mixing bowl. Add 1 t salt, 1/2 t pepper and a few dashes of Tabasco. With your hands, mix seasonings into meat. Set aside.
For the onions, heat a medium skillet over low heat. Add 2 T butter. Dup in the sliced red onions and 2 generous tablespoons of brown sugar. Give it a toss to combine the ingredients, then allow the onions to caramelize over low heat for about twenty minutes, tossing occasionally.
While the onions are caramelizing, make the spicy mayo by placing the 1/4 c may in a bowl and adding a few dashes of Tabasco. Stir together and test for taste.
Next, slice the Kaiser rolls in half and spread each half with butter. Place them face down on a grill pan or skillet over medium heat. Lightly grill the rolls until crispy.
Form the meat into patties and place on a grill on medium-low heat. Allow meat to cook about 3 minutes, then using a spatula rotate it 45 degrees leaving it on the same side. After a few minutes flip the burger and cook on the other side, rotating it 45 degrees again to get the nice grill makrs. Now add a large helping of the caramelized onions over the top, followed by a generous helping of crumbled blue cheese. As the meat finishes cooking, spread the spicy may on the rolls and transfer the burger onto the bun. Top with a handful of greens and the other bun.