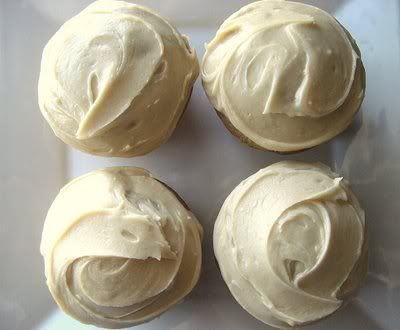 Adapted from
Taste of Home
by Nat on
Perrys' Plate
(this is her photo...my dishes are not this pretty)
**These taste like spice cakes. Very yummy!
Zucchini Cupcakes with Caramel Frosting
3 eggs
1 1/3 c. sugar
1/2 c. vegetable oil
1/2 c. orange juice
1 tsp vanilla extract
2 1/2 c. all-purpose flour
2 tsp ground cinnamon
2 tsp baking powder
1 tsp baking soda
1 tsp salt
1/2 tsp ground cloves
1 1/2 c. shredded zucchini
Caramel Frosting: (this makes a lot so adjust per your needs)
1 c. packed brown sugar
1/2 c. butter
1/4 c. milk
1 tsp vanilla extract
1 1/2 to 2 cups confectioners' sugar
Beat eggs, sugar, oil, orange juice and vanilla. Combine dry ingredients; add to the egg mixture and mix well. Add zucchini and mix well.
Fill greased or paper-lined muffin cups two-thirds full. Bake at 350 for 18-20 minutes or until a toothpick comes out clean. Cool for 10 minutes before removing to a wire rack.
For frosting, combine brown sugar, butter and milk in a saucepan. Bring to a boil over medium heat; cook and stir for 2 minutes or until thickened. Remove from the heat; stir in vanilla. Cool to lukewarm. Gradually beat in confectioners' sugar until frosting reaches spreading consistency. Frost cupcakes. Yield: 1 1/2 to 2 dozen.