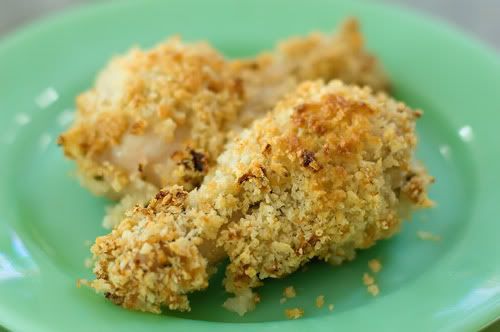 Crispy Yogurt Chicken
Chicken legs
2 c plain, unflavored yogurt
2-3 cloves garlic
parsley
juice of one lemon
salt
butter
2 c Panko Bread Crumbs
Begin by throwing 2 cups of plain yogurt into a mixing bowl. Peel and mince a couple of cloves of garlic and put in yogurt. Next chop up a small amount of fresh parsley and add it to the yogurt. To this add the juice of one lemon. Mix together to combine.
Rinse your chicken and pat it dry. Then give it a nice sprinkling of salt.
In another bowl place the bread crumbs. Give them a sprinkling of salt too and then a bit of a stir.
Butter a baking dish. With a pair of tongs place the chicken, one piece at a time into the yogurt mixture. Turn it over thoroughly to coat. Then roll the chicken in the bread crumbs. Cover each piece thoroughly with bread crumbs and place it in baking dish.
Finally, place a slice of butter over the large part of each chicken piece. Cover with foil and bake in a 350 degree oven for 1 to 1 1/4 hours, removing the foil for the last 15 minutes of cooking. When the chicken is nice and golden, remove from the oven and enjoy!
Jayne's notes: This wasn't as crispy as I would have liked but that may be because I added the last of my corn flakes to the bread crumb mixture. Or it might be because I didn't use 'Panko' crumbs. I'm not sure what they're like, but I just had generic crumbs in my cupboard. I also used a shake of garlic powder instead of fresh garlic.
All in all we give this a thumbs up. It was very tasty! Thanks,
PW
!