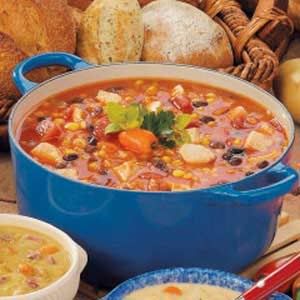 Okay, so you all may have your doubts about eating a BARLEY soup as did I. But honestly you don't even know it's in there unless you look carefully at what you're spooning into your mouth. This soup tastes great! I wasn't tempted to make it at first but since I have two pounds of Pearl Barley that have sat in my cupboard for a year I figured I would give it a try. I wasn't disappointed. Taste of Home rates it a 5 star recipe and so do I!
Southwestern Chicken and Barley Soup
(Taste of Home original recipe)
1 c chopped onion
1 minced garlic clove
1 T oil
3 c water
1 15-oz can whole kernel corn, drained
1 15-oz can kidney or black beans, rinsed and drained
1 15-oz can tomato sauce (or two small ones)
1 14.5-oz can diced tomatoes, undrained
1 14.5-oz can chicken broth
1/2 c pearl barley (uncooked)
1 4-oz can chopped green chilies, drained
1 T chili powder
1/2 tsp cumin
3 c shredded or cubed cooked chicken
1/4 c chopped fresh cilantro
juice from 1 small lime or 1/2 large lime (about 2-3 T)
sour cream
shredded cheddar cheese
In a large soup pot (4-5 qts) saute onion and garlic in oil until tender. Add the next 10 ingredients. Bring to a boil, then reduce heat, cover, and simmer for about 45 minutes.
Stir in the chicken and cook for 15 more minutes or until barley is tender. Stir in cilantro and lime just before serving.
To serve, ladle into bowls and top with sour cream and shredded cheese.