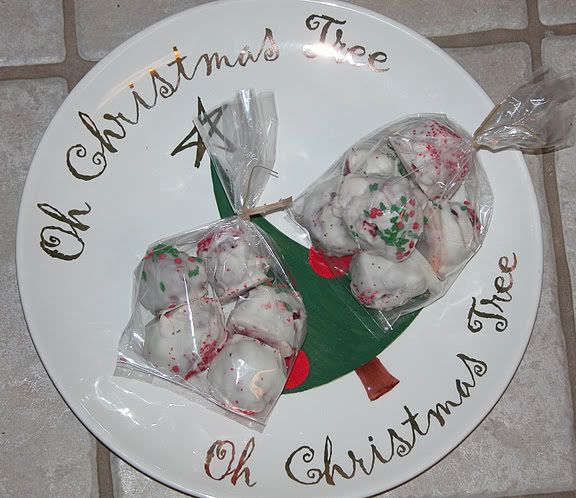 I was inspired by
Bakerella
to make these cupcake pops. Let me just say how yummy these are!! The outer chocolate shell kept the cake so very moist and yummy. I made some with lolli-pop sticks and some were too top heavy so I bagged them like truffles.
Here is Bakerella's simple yet satisfying recipe in my own words:
Bake a cake per the cake mix directions. Let cool completely.
Crumble the cake in a large mixing bowl one quarter at a time. Add a container of frosting (I used store-bought) to the desired consistency. Begin to roll the cake mixture into walnut-sized balls by scooping with a small cookie scoop. You'll need to wash your hands after every 5-10 cake balls because the cake begins to adhere more to your hands then the ball. Once your cookie sheet is filled with cake balls put them in the freezer for 20 minutes or until completely frozen.
While these are freezing begin warming up your double boiler to melt the dipping chocolate. (I don't have a double boiler so a glass bowl resting in a saucepan with boiling water works great.) Remove the cakes from the freezer and carefully begin to dip them in the chocolate. I used both a fork to handle the cake as well as my lolli-pop sticks. If the cakes get too warm they will begin to crumble so just put them back in the freezer if this happens. Place newly dipped chocolate cakes on wax paper, decorate with sprinkles if desired (the chocolate hardens fast so be sure to remember to sprinkle these before it dries).
*Jayne's Notes: My cake was left to cool a little too long so I ended up using all of the frosting to moisten it but I don't think normally you need all of it. With too much frosting the cake balls get too sticky for handling. Also, if you decide to make these into lolli-pops then roll your cake balls small or else they will be too dense and heavy to stay on the stick.