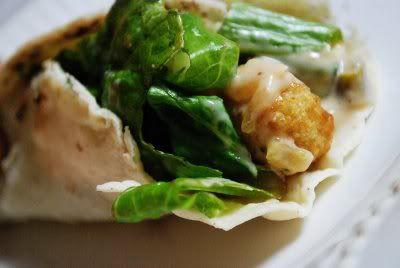 We had fish tacos for dinner tonight. I don't think I have ever eaten a frozen fish stick in my life so I was wary about this recipe but Rachelle has awesome taste so I was trusting when she said this was 'dinner worthy'. We all really enjoyed this tasty treat, especially me because I had dinner ready and on the table in 10 minutes flat!!
Just a quick note: The homemade tarter sauce MAKES this meal! Substituting store-bought tarter just won't cut it. (Store-bought tarter + frozen fish = blah!)
Quick Fish Tacos and Homemade Tartar Sauce
an original recipe (and photo) by
rachelle
at fashionably foodie
12 fish sticks
(Use a high quality fish for the best tacos. You'll regret it if you don't!
)
12 corn tortillas
1 recipe homemade tartar sauce
shredded cabbage or lettuce
limes
Preheat oven and start chopping cabbage or lettuce and halving limes. Warm tortillas in with a wet paper towel wrapped around them in the microwave. (These are best simply with warm tortillas, not fried.) Put fish sticks in the oven and mix up the tartar sauce. Serve tacos in shells with a layer of shredded cabbage or lettuce, a piece of fish, a big drizzle of sauce and a squeeze of lime.
Homemade Tartar Sauce
1/2 cup mayonnaise
1/4 cup sweet relish
2 Tablespoons ketchup (optional)
1/4 teaspoon salt
1/4 teaspoon garlic salt
1/8 teaspoon pepper
Mix well.