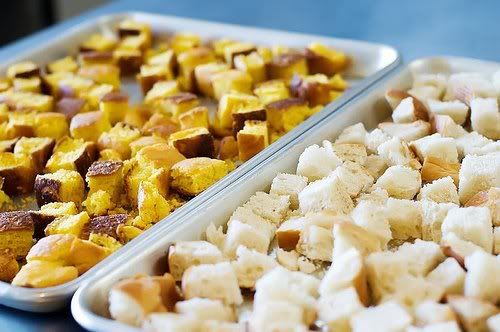 Photo Courtesy of PioneerWoman
Stuffing/Dressing has never been my favorite Thanksgiving dish until the past few years. I became a fan once I tasted
Kneaders
stuffing mix with it's huge asiago cheese bread cubes. It is to die for!! Since we didn't have access to Kneaders in Utah this year I found this 'next best' option on Pioneer Woman's site. I liked the unique combo of french bread and cornbread and the fact that they are larger cubes instead of small cubes that tend to turn to mush (almost like a dressing in the form of oatmeal...know what I mean?)
Pioneer Woman's
Thanksgiving Stuffing (Delicious!!)
1 recipe of PW's cornbread (see below)
1 loaf somewhat crusty french bread
1 medium onion, diced
low sodium chicken broth (about 4 cups)
1/2 c butter
2 c celery, chopped
1/4 c fresh parsley
1/2 t dried basil
2-3 t fresh rosemary
1/2 t dried thyme
salt
First chop cornbread and french bread into 1 inch cubes, spread on baking sheets and let dry for approx. 24 hours.
Melt butter in large saucepan. Add onion and celery, cooking until onions are almost translucent. Add 4 c chicken broth and bring to a boil. Add herbs and stir until combined.
Place all dried bread cubes in large mixing bowl and gradually add broth mixture, tossing lightly as you go. If the mixture is not quite moist enough add more broth and stir. Salt carefully...you don't want to oversalt stuffing.
Either stuff the bird and bake according to directions or place in a baking dish and bake at 350 for 20-25 minutes or until golden brown.
Cornbread:
1 c yellow corn meal
1/2 c flour
1 t salt
1 c buttermilk
1/2 c milk
1 egg
1 T baking powder
1/2 t baking soda
1/4 c plus 2 T shortening
Preheat oven to 450. Heat shortening in iron skillet. Combine corn meal, flour baking powder and soda, and salt in mixing bowl. In separate bowl, combine buttermilk, milk and egg. Pour milk mixture into flour mixture and stir. Add 1/4 c melted shortening, stirring constantly. Pour into hot pan and bake 20-25 minutes or until top is golden brown.