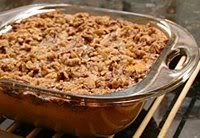 My family eats their veggies. I'm not sure if my squash/sweet potato fancy began with my first child and making baby food for her. (By the way, I DON'T taste-test baby food. Dan does...talk to him about his crazy idea that he needs to taste Gerber's Turkey Tetrazini before feeding it to our baby. Yuck! Sorry Dan but I just had to add this little funny.) Anyhow, we like eating sweet potatoes for dinner served with a little butter and brown sugar, but we've never tasted any potato (sweet or not!) like these!! The potatoes were very creamy and the top streusel layer was crunchy, sugary, nutty, and just divine!
Pioneer Woman's Sweet Potatoes
4 medium sweet potatoes
1 c sugar
1 c milk
2 eggs
1 t vanilla extract
1 t salt
1 c brown sugar
1 c pecans
1/2 c flour
3/4 stick butter (3/8 cup)
Wash the 4 sweet potatoes and bake them at 375 until fork tender, about 30 minutes. When they are finished cooking slice them open and scrape the flesh into a bowl. Add the sugar, milk, eggs, vanilla and salt. With a potato masher mash them just enough (you don't want them to be perfectly smooth).
In a separate bowl combine brown sugar, pecans, flour and softened (but not melted) butter. Mash with a fork or pastry cutter.
Spread sweet potato mixture in a baking dish and sprinkle the topping on. Bake at 400 for 30 minutes or until golden brown.